Clean and Renewable Energy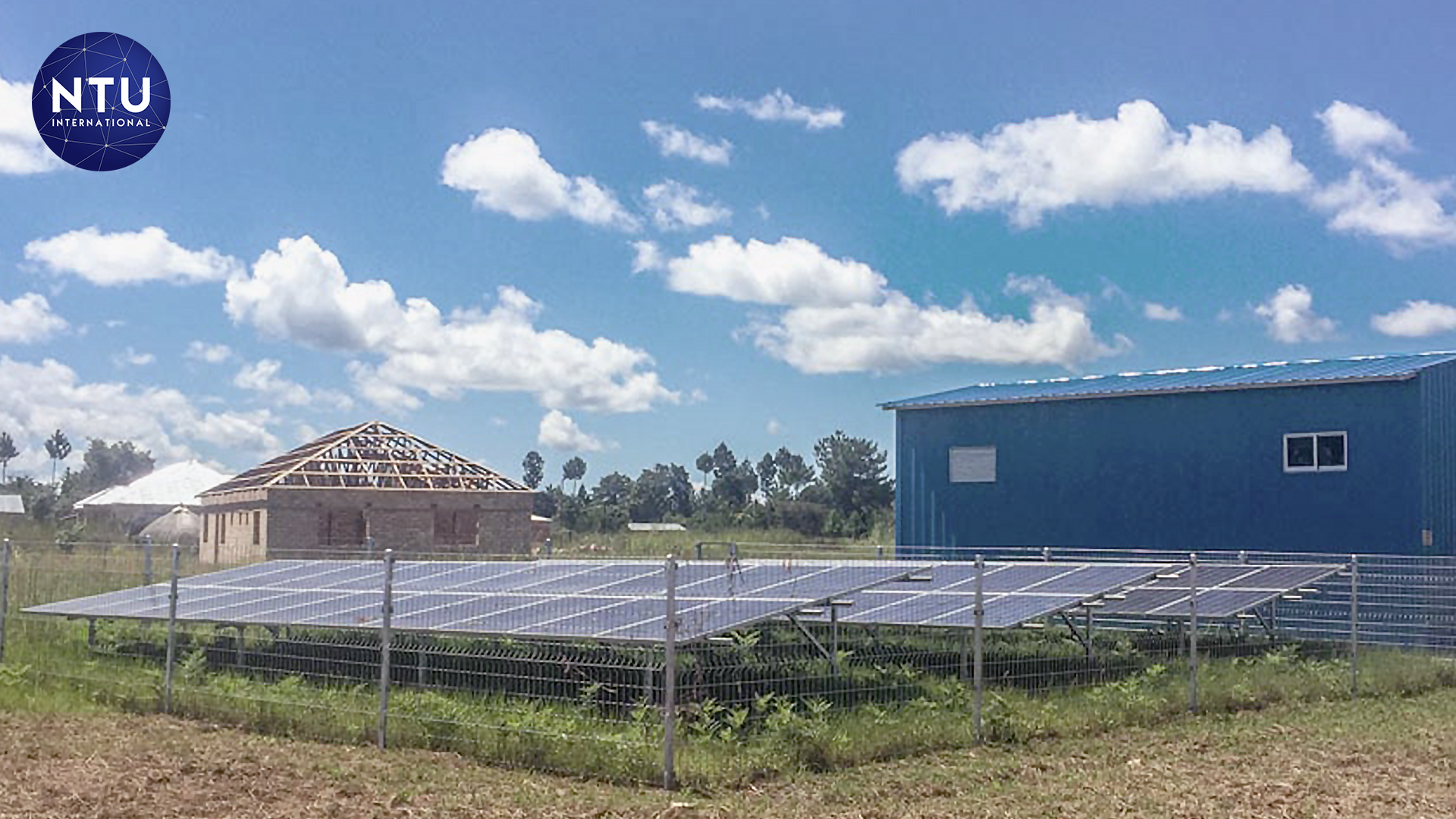 Renewable energy has become one of the major priorities all around the world. Policies, regulations and incentives are applied in countries around the world to promote a cleaner context in respect with the environment.

In this sense, NTU conducts environmental studies in all sectors, from transportation to water and sanitation. We recognise the fundamental role that renewable energy covers nowadays. For these reasons, we offer renewable energy solutions and promote the use of alternative fuels, such as bio-gas or LNG, in several projects. NTU offers energy efficiency solutions and demonstrates the benefits of these new options through statistics studies and numerical analyses. Through cost-benefit and multi criteria analyses for example, NTU shows the importance and the economic opportunities that renewable energy ensures.

Green growth and smart cities are another focus in NTU's services. The promotion of application of green growth and smart cities solution is essential in urban development in the future.
Capacity Building for Renewable Energy and Energy Efficiency:  Feasibility Studies and Demonstration Projects (2018-2022)
Zambia
European Commission 
The "Capacity Building for Renewable Energy and Energy Efficiency" project provides technical assistance to the Rural Electrification Authority (REA) for the development of renewable energy and energy efficiency demonstration projects in rural Zambia. With a budget of 5 million euros and more than 4,500 technical assistance man-days, the specific objective of this TA task is to support the deployment of renewable energy and energy efficiency actions, and capacity building of sector stakeholders to develop sustainable energy projects in the future. This project is part of the overall programme "Support to the Zambia Energy Sector: Increased Access to Electricity and Renewable Energy production", which aims to increase Zambia's citizens access to clean, reliable and affordable energy, and promote renewable energy production and energy efficiency, especially in rural areas.
With the aim of accomplishing the contract's objectives NTU will:
Perform Pre-/feasibility studies for mini-hydro sites
Design of non-hydro mini-grid projects
Prepare and award Call for Proposals for Demonstrator Projects
Monitor the implementation of Demonstrator Projects
Elaborate on guidelines for mini-grids operation
Prepare documentation needed for the development of on-grid Renewable Energy schemes
Throughout these activities, NTU will ensure capacity building and technical know-how transfer, through on-the-job and formal training, covering: (pre-)feasibility studies for mini-hydro sites; design of non-hydro mini grid projects; preparation of guidelines & call for proposals; solar resource assessment; monitoring and evaluation of the grant contracts; management of issues emerging during contract implementation incl. claims and disputes resolution; construction supervision; use of guidelines for mini-grid operation; preparation of documentation needed for the development of on-grid Renewable Energy schemes.
Expected Results:
The TA support provided to REA is instrumental for demonstrating the viability of various Renewable Energy schemes, ensuring the transfer of technical know-how, and constructing resilient infrastructure in the Zambian energy sector. These results will consequently allow for inclusive and sustainable industrialisation, and the ability to address energy poverty in rural areas.
Technical Assistance to the Port of Frederikshavn for Integrating Clean Energy Solutions in Port Operations (2015–2018)
Denmark
INEA / Port of Frederikshavn
The overall objective of the Port of Frederikshavn's expansion and modernization program "Nordic Maritime Hub - Linking Northern Denmark to Core Network Corridors and Motorways of the Sea" is the enhancement of the Port's regional standing as to become a key maritime hub in Northern Europe. Within the overall program, a specific objective is the integration of clean and renewable energy sources in all port operations to live up to the best national and EU standards. The purpose of the technical assistance provided by NTU is to support the Port of Frederikshavn to become a state-of-the-art port on the Comprehensive TEN-T network through modernization of its infrastructure facilities for development and integration of renewable energy sources in port operations.
NTU is carrying out the following activities:
Advise on Danish and EU legislation and regulations with respect to renewable energy requirements for meeting the current EU energy goals for LNG refuelling points to be available by 2025,
Support with development of forward-looking clean energy facilities and solutions, including planning of port facilities for providing the port users with alternative fuels
Assess improvement options of the hinterland connection for easing the access from ships to the hinterland terminals.
Assist with designing and construction management of bio-oil bunkering facilities and establishing a mobile shore-side power supply platform.
NTU is supporting the Port of Frederikshavn to become a lighthouse example among Comprehensive TENT-T Network ports for the deployment of LNG bunkering facilities and building the world's first bio-refinery for production of low-sulphur marine propulsion bio-fuel. The port supplies more than 100,000 ships that yearly enters or exits the Baltic Sea with an access point for alternative fuels. The hydrothermal technology in the bio-refinery has a practically unlimited market potential as it provides an answer to the transport sector's challenges for reduction of CO2 emissions and combatting climate change.
Expected Results:
NTU will contribute to development of renewable energy technologies in the maritime transport and provision of the maritime industry with clean power supply solutions, thus contributing to reduction of the negative impact on the environment.
End-term Review of Intervention "Renewable Energy for Rural Development" (2015)
Mozambique
Belgian Development Agency
The overall objective of the Renewable Energy for Rural Development (RERD) Project was the promotion of the rural development through increasing access to energy. The specific objective of the project was to increase access to hydraulic, solar and wind energy for use in off-grid applications in rural areas. The purpose of the End-term Review carried out by NTU was to make an overall assessment of the performance of the RERD project and made recommendations for increasing the effectiveness of new interventions. 
Some of the activities reviewed include:
Implementation of solar, wind and hydro projects focused on off-grid energy systems, based on renewable energy resources (hydraulic, solar and wind) in remote rural areas where no grid connection was foreseen in the near future. This included electrification systems (on grant basis) for community infrastructures such as administrative buildings, schools, health centres, water pumping devices and public lighting.
Support for promotion of small solar energy based appliances for private use (household, shops or small enterprises) stimulated by subsidies to rural investment funds and soft loans through micro-finance systems.
Support for increasing the technical and administrative capacity of FUNAE (Rural Energy Fund) for achieving successful implementation of the rural electrification programme
Achieved Results:
The end-term review findings and recommendations provided by NTU contributed to increasing the impact of new policies, strategies and programmes for access to energy through in renewable energies in Mozambique which is key to supporting socio-economic development in the rural areas.
Support to Green Conversion Programme for Fossil Free Electricity, Heating and Transport in Høje Taastrup Municipality (2014–2015)
Denmark
Danish Energy Agency
The overall objective of the program "Høje Taastrup Going Green" is accelerating the green transition to a fossil-free society through development of renewable energy sources and resource-efficient solutions in the the local economy in line with the strategic goal of making Denmark independent from the use of fossil fuels by 2050. NTU contributed to the achivement of the specific objective for the project that was to design, demonstrate and support the deployment and use of fossil free energy solutions in the electricity, heating and transport sectors, while promoting job and green growth.
Project activities cover all program priority areas, as follows:
Energy efficiency in buildings and systems integration: Uncovering the potential and development of concepts for promoting energy efficiency in municipal, residential and commercial buildings;
Fossil-free electricity: Uncovering the local and inter-municipal opportunities for increased use of renewable energy sources in electricity and heating (collective and not collective) and energy storage.
Fossil free heat supply: Analysing and planning the deployment of cooling and low temperature heating.
Fossil-free transportation: Development of renewable energy solutions for freight and passenger transport.
Fossil-free and resource-efficient urban development: Developing future scenarios for accelerated conversion of energy used in urban areas to fossil free energy, interacting with energy efficiency initiatives.
A flagship activity completed by NTU is the development of a demonstration project for elimination of CO2 emissions in the transport, logistics and distribution sectors, which was identified as the most polluting within the municipality. Several sector specific studies were also completed, including an assessment of needs and resources for infrastructure transformative processes and business models for achieving a cost-effective conversion to alternative fuels. A series of demonstration events and workshops on alternative sources of energy were also organized as well as a knowledge platform was built for promoting the use of hydrogen, electrolysis, biogas, biofuel, compressed natural gas and renewable liquid gasification, and informing on the most efficient and optimal application of each energy source in the context of urban development. 
Achieved results:
NTU supported the deployment of fossil free energy solutions in a number of sectors, particularly freight and passenger transport, contributing to the reduction of CO2 emissions, combatting the climate change and promoting the green growth development.
Final Evaluation of Two Interventions "Access to Electricity for Rural Population through Renewable Energy" and "Increase Rural Energy Access through Hydropower Development by Means of Public Private Partnerships" (2014)
Rwanda
Belgian Development Agency (BTC)
The overall objective of the programme was to contribute to the improvement of living conditions and the socio-economic development of rural populations through increasing access to electricity in the rural areas. The specific objectives of the project interventions were to ensure availability of electric power to rural users and the national grid through local and renewable energy sources. The purpose of the final evaluation carried out by NTU is to assess the results and interventions against the main evaluation criteria (relevance, efficiency, effectiveness, sustainability and impact), transversal issues (gender, environment, social economy, children rights) and HARMO criteria.
The project interventions assessed by NTU included:
Construction of micro hydro power plants and installation of solar systems in healthcare centers for the production of renewable energy in the districts of Rutsiro in the northwest and Nyaruguru in the south.
Development of public-private partnership schemes for the development of micro hydro power plants and photovoltaic installations.
Achieved Results:
Findings and recommendations made by NTU were crucial for formulation of future actions for access to electricity through renewable energy by the rural populations and increasing the overall access to energy in Rwanda.
Mid-term Evaluation of the ACP-EU Energy Facility under the 9th EDF (2011-2012)
ACP Countries
European Commission / EDF
The overall objective of the ACP-EU Energy Facility is improve access to modern energy services for the poor in rural and peri-urban areas in ACP (Africa, Caribbean and Pacific) countries, through facilitation of funding for energy projects. The purpose of the mid-term evaluation assignment carried out by NTU was to analyze to what extent the results attained by the implementation of the 1st Call of the Energy Facility were in line with the EC objectives of poverty alleviation, environmental sustainability, gender equality and good governance, as defined in the Action Fiche.
The evaluation covered the operational aspects of the Energy Facility as well as the programming and management aspects with the purpose to draw key lessons for improvement of the relevance, efficiency, effectiveness, sustainability and impact of the actions.  The assessment included a number of projects across the three components of the Energy facility, as follows:
Component 1 contributing to well-targeted investments providing access to energy services focused on the improvement of the economic and social conditions of poor communities in rural areas, including (1a) small-scale infrastructure projects and (1b) large-scale infrastructure projects.
Component 2 targeting countries where grants from the Energy Facility could support progress towards better governance conditions for delivery-oriented interventions in the field. It includes support to developing or implementing sound national energy policies and strategies, based on good governance principles.
Component 3 devoted to leveraging funds to facilitate cross-border interconnections, including investments as well as preparatory activities required to facilitate future essential investment plans for regional energy infrastructure such as: cross-border interconnections, grid extensions etc., which can be then funded by International Financial Institutions (IFIs).
Achieved Results:
Through a comprehensive assessment of results attained and recommendations made, NTU contribution was crucial for further integration of the EC strategic implementation principles in the Energy Facility operations, particularly with respect to crosscutting issues: poverty alleviation, environmental sustainability, gender equality and good governance, etc.